Patients aged 16-24 (teenagers and young adults)
The Teenage and Young Adult (TYA) service offers specialist, age-appropriate care to cancer patients aged 16 to 24, as well as emotional, psychological, practical and social support.
We have a team of professionals with a special interest in the care of teenagers and young adults.
We work closely with specialist teams in each type of cancer to help us provide the best possible expert care. We will be open and honest with you, and answer your questions to the best of our knowledge.
We use DrDoctor for digital assessments. 
We can also offer some support to your family, friends and those who are important to you.
If you would like to speak to someone in the TYA team, please speak to your Clinical Nurse Specialist who will give you the correct details.
Place of care
Teenage Cancer Trust Unit in Sutton
Chelsea
Teenage and Young Adult Holistic Clinic
Music therapy (Sutton only)
Fertility referral information for patients
Patient information leaflets and support
Get involved
Information for parents
Information and resources for clinicians
Transitioning to adult care
Place of care
National guidance requires that teenagers and young adults should receive their care in an environment that is suitable for their age group, rather than one designed for children or older adults. The guidance says that teenagers aged 16 to 18 years must be cared for at one of the 13 Principal Treatment Centres (hospitals) in the UK designated to offer such care. The Royal Marsden is one of those hospitals. All patients aged 16-24 diagnosed with cancer in the South Thames region should be referred to the TYA MDT at The Royal Marsden as the Principal Treatment Centre for the region. Please see the MDT referral form and list of TYA clinician contacts for more information.
We are fortunate to have a purpose-built unit for teenagers and young adults aged 16-24 years at The Royal Marsden, Sutton. The TYA unit can provide both outpatient and inpatient care. Any patient age 16-24 years old from the South Thames area (South London, Kent, Surrey and Sussex), regardless of diagnosis, can receive care within the TYA unit. Both adult and paediatric medical teams trust wide are aware of the unit and nearly all the care patients may need can be provided within the unit. Please feel free to raise the question with your medical team as to where you will receive your treatment and take the chance to explore the TYA unit as an option. 
If you are aged between 19-24 years old, you will be offered the choice of treatment at The Royal Marsden or a TYA designated hospital (a hospital in your local area which can offer a similar environment). One of the doctors or nurses in your team will explain what this means to you in more detail. Some patients in this age range (eg sarcoma, complex surgery) follow regional referral pathways and are always referred to the Royal Marsden to ensure they get the specialist treatment they need.
For young people choosing to be treated at a designated hospital, we have a team of TYA clinical nurse specialists who can support you. Check the map of the region we cover and where our hospitals are based.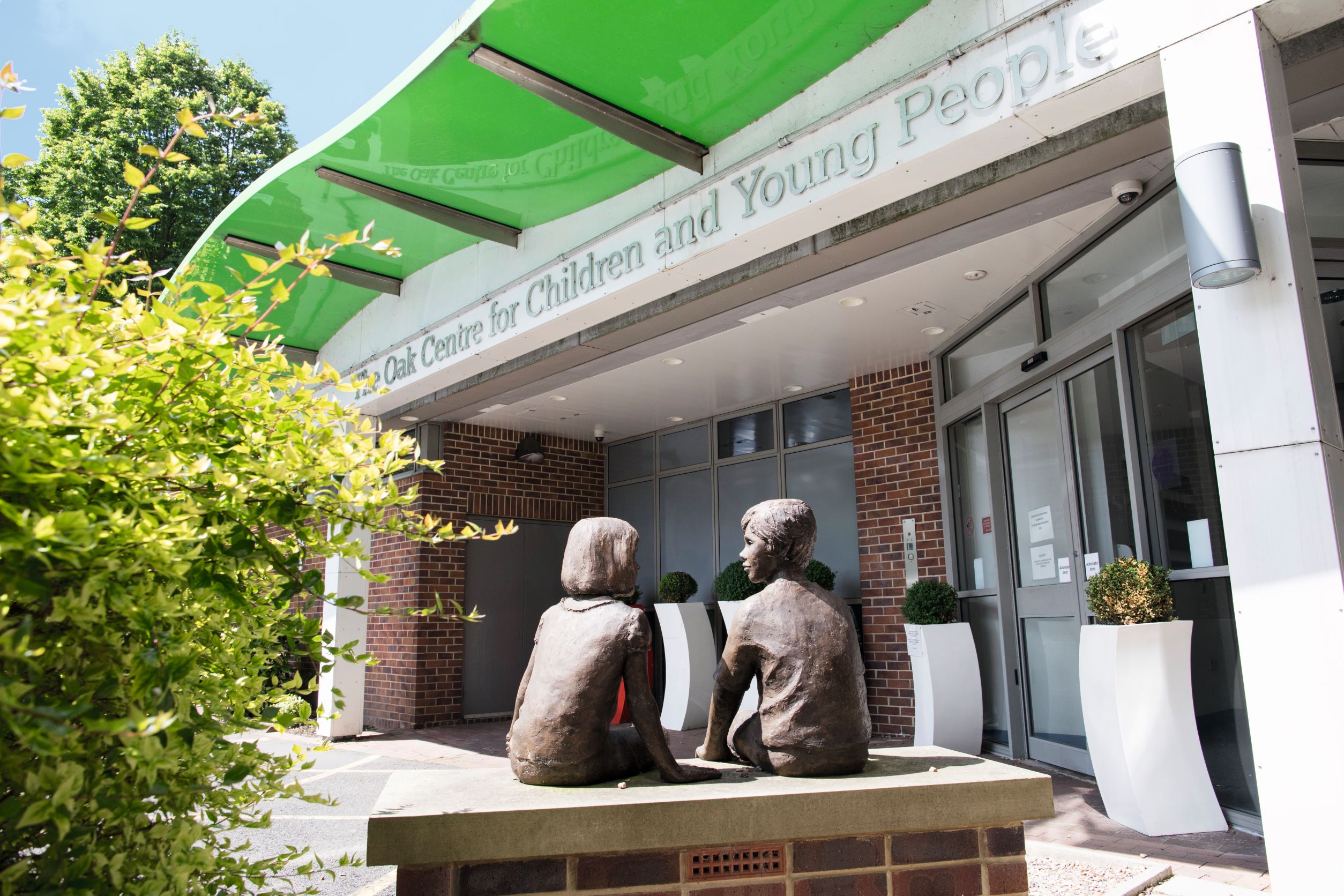 Teenage Cancer Trust Unit in Sutton
The Teenage Cancer Trust Unit (TCTU) at The Royal Marsden's hospital in Sutton is a purpose-built unit for teenagers and young adults aged 16 to 24 years. It has both inpatient and day care areas. It's part of the main hospital but a separate environment appropriate for young people.
Patients are supported by a specialist TYA multidisciplinary team. The team is made up of doctors, nurses, youth support workers, teachers, social workers, psychologists, physiotherapists, dietitians, occupational therapists, speech and language therapists and a chaplain.
Youth supporter workers in the TCTU are also part of the wider team. They can help with anything non-medical that will help you deal with cancer. They're skilled at bringing young people with cancer together to support each other, and make sure our units are a relaxed and welcoming place where young people can bond over TV, games or pizza.
To speak to a TCTU youth support worker, please contact lara.perkins@rmh.nhs.uk.
Chelsea
Some young patients have some or all of their treatment at The Royal Marsden in Chelsea, as this is where certain specialist services, major surgery and critical care take place. There is no dedicated TYA unit here. We usually use Markus and Ellis wards for young patients, but we cannot always guarantee this. We do our best to provide the specialist TYA support for TYA patients having treatment in Chelsea.
Teenage and Young Adult Holistic Clinic
The TYA multidisiplinary teams (MDT) clinic is for patients aged 16-24 years old being seen at The Royal Marsden after they are diagnosed with cancer. Patients are reviewed in clinic by different members of the TYA MDT team. Patients are reviewed regularly throughout their treatment by the TYA team as well as the specialist team directing their cancer treatment. 
The TYA MDT team is there to support patients with not only their medical needs, but their needs as young people. This includes support with education, work, relationships, fertility concerns, physical activity, and psychosocial wellbeing.
To find out more about the support the TYA service can provide to you, please contact:
Music therapy 
Did you love music? Ever wanted to learn how to write a song, or play an instrument? 
Every Tuesday, our Music Therapist, Kwaku, will be at the Sutton site for a group music therapy session. Come along for live music jams, learning new skills, and the chance to explore yourself through music. 
If you're not feeling particularly energetic, you don't need to get involved - you are still very welcome to come along and enjoy a chilled out session where you can chat with friends.
Fertility referral information for patients
Often following a cancer diagnosis patient's have lots of questions concerning how treatment will affect their fertility. Advice can be given taking account of individual needs. We are fortunate enough to have strong links with expert fertility centres who offer an array of services we can refer you to if needed. These include: fertility counselling, egg harvesting, sperm banking, hormone replacement therapy and many more. It's important to note not all anticancer therapy affects fertility.
Patient information leaflets and support
We work with many supportive organisations that contribute to the holistic care we strongly believe harnesses recovery and wellbeing while undergoing cancer treatment. To help us better understand your needs, we ask that you complete an IAMs (integrated assessment mapping). This enables you to highlight to us any concerns or needs you have, track your mood and access resources.
You will need to register for an IAMs account in order to do this.
Get involved
Keep up to date with our latest events and projects on Instagram: @royalmarsden__TYA
For opportunities to get involved with raising the profile of young people's voices within service development and research at The Royal Marsden, please see:
Information for parents
Having a young person with cancer in your family can be a distressing and overwhelming time, and our TYA team are here to support you also. We have Maggie's Centre at our Sutton site, which is a welcoming space away from the clinical environment, and you can also access various support groups, courses and workshops.
Information and resources for clinicians
We have put together a simple guidance powerpoint to assist clinicians referring newly diagnosed/relapsed teenage and young adult patients into the Royal Marsden. Please use the forms linked below when referring patients.
Referral form for paediatric haemato-oncology team
Referral form for TYA MDT
Transitioning to adult care
Most young people at The Royal Marsden move from child to teenage and young adult or adult services soon after their 18th birthday, but you may start talking about it from the age of 14. We know that young people are all different, and they grow up in different ways, so the exact timing of the move varies from person to person. 
You can find information about the transition process and answers to any questions you might have via the Transition Hub.